KLM Royal Dutch Airlines welcomes its 100th anniversary on October 7, 2019 by holding a two-day exhibition 'KLM 100 Years – Celebrate the Future'. The exhibition will be held on October 5 and 7, by presenting historical and past milestones in the KLM effort to create a sustainable aviation industry.
According to KLM Indonesia's Air France Country Manager, Wouter Gregorowitsch at press conference, Eramus Huis Jakarta (4/10) said KLM will be the first airline in the world to operate under its original name. KLM achieved a good milestone because it was committed to taking advantage of opportunities, accepting challenges with partners and embracing technology. KLM, one of the oldest international airlines in the world.
"The exhibition 'KLM 100 Years – Celebrate the Future' will give visitors a unique insight into the history and future of KLM and its role became a pioneer in the aviation industry. Indonesia is a special destination in the KLM large network because Indonesia is our longest intercontinental destination," Wouter said
He also mentioned that KLM began its flight to Indonesia 5 years after it was established, on November 24, 1924 using a Fokker F-VII aircraft. The plane successfully landed after traveling for 55 days. Then starting in 1930 began scheduled passenger flights between the Netherlands and Indonesia. I quoted a sentence from the founder of KLM, Dr. Albert Plesman, which is 'Air connects us all, something KLM has done for a long time between Indonesia and the world.
"In this exhibition will show three interesting objects that make visitors as if on the KLM plane past and present. Firstly, visitors will see a time capsule tunnel that displays the history of KLM in a timeline, including an interesting story about KLM's first intercontinental flight from Amsterdam to Indonesia in 1924," he added.
Wouter continued, secondly, creative exhibits that showcase KLM's focus on digital innovation and commitment to contribute to a sustainable future. Thirdly, there is the complete collection of Delft Blue Miniature House KLM. Visitors will see some traditional Dutch houses that can be found along the Amsterdam canals and other historic cities in the Netherlands. I hope that visitors will enjoy their experience at this exhibition.
Meanwhile according to Gijs van Popta, GM South East Asia & Ocenia said our anniversary is also a moment to look ahead to the next century, because we want to set the standard for tomorrow's aviation. We want to keep connecting the world, but with attention to our surroundings. The exhibition will therefore also focus on KLM's efforts to make its products more sustainable.
But when he asked about gas emissions, he immediately answered that the KLM initiative to realize aviation industry ecosystems that are more environmentally friendly. These initiatives are under the umbrella of the "Fly Responsibly" program which includes CO2Zero or an option for consumers to compensate for CO2 emissions resulting from their flights with additional costs used to plant new trees in various regions.
"There is also Takes Care, an initiative to recycle the company's old inventory into new goods. For example, airplane rugs are made from recycling the old uniforms of KLM flight attendants. Even Wings of Support as an educational educational assistance program for disadvantaged children. There is also KLM Catering Services Schipol which ensures dishes on the plane are taken from sources that are guaranteed to be sustainable," he explained.
Innovation also continues to be one of the main initiatives of KLM Royal Dutch Airlines to develop a sustainable aviation business. For example, by continuing to ensure their aircraft are fuel efficient. This is done by upgrading their aircraft models with V-design aircraft that are more aerodynamic and able to save fuel by up to 20%. Another way they take is to use KLM BlueBot, which is artificial intelligence to help consumers plan their trips more efficiently. Both in terms of budget, destination choices, duration, to the packing guide.
"Going forward, KLM Royal Dutch Airlines is striving to achieve the global aviation industry's target to reduce carbon emissions and waste generated by up to 50% by 2030. KLM is widely recognised as a pioneer in the aviation industry and in its centennial year is not only looking back in celebration but looking forward with confidence to the future," Popta said.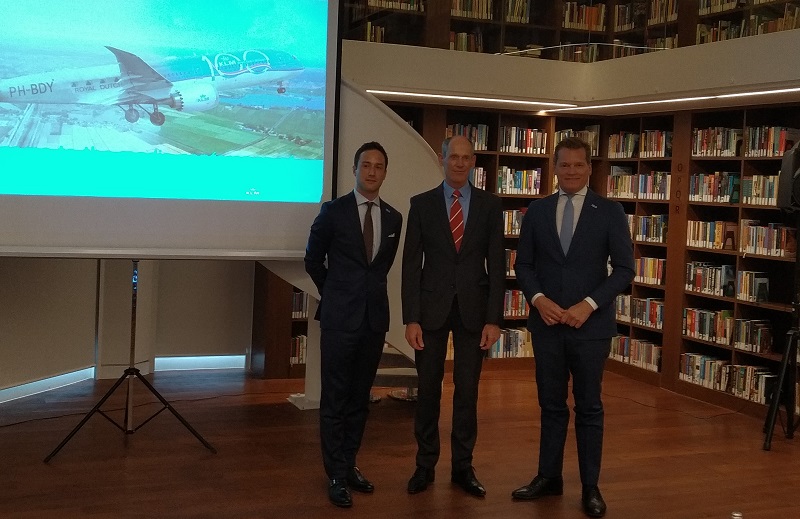 The exhibition was officially opened by His Excellency Lambert Grijns, Ambasador of the Netherlands to Indonesia, and the exhibition is open to the public on Saturday 5 October at 10:00 to 16:00 WIB. Then the second day, Monday 7 October at 10:00 until 15:00 WIB. Visitors can directly come to the Erasmus Huis, the Dutch Cultural Center, Jalan H.R. Rasuna Said Kav S-3, South Jakarta to enjoy the exhibition. [traveltext.id]