THE ROAD and long process of Tlilir Village to become Mbako Village is very long. Throughout the tobacco process to become rupiah sheets from the highlands to the collectors in the city center.
It turns out that having a big name as the best tobacco-producing village in the world is not enough. The residents still have to continue to fight for the wheels of the economy to keep turning so that it is dynamic.
Government policies related to tobacco exports are still detrimental to tobacco farmers, such as those from Tlilir Village, Tlogomulyo District, Temanggung Regency, Central Java.
The flood of tobacco products from China has severely blocked the supply of tobacco from this village at the foot of Mount Sumbing. Apart from that, it also has an impact on the low price of tobacco, and the supply of tobacco leaves from Tlilir is not able to go out much to the domestic market share.
Fatur Rahman, Head of Tlilir Village, explained that this tobacco is seasonal. There must be another side that must be explored so that the village economy continues to flow and stand independently.
Tourism can be one of the rational bases to move this. The reason is, Tlilir Village has tourism potential and creative economy to be appointed as an attraction. One of them is ancestral culture, starting from planting to harvesting tobacco.
"Starting from planting tobacco to harvesting, there are rituals. And this has become an ancestral tradition. During the planting season, residents bring ingkung to the garden as a thank you to the Almighty," said Fatur.
He added, Tlilir Village has an annual cultural arts event related to tobacco. Therefore, it is not wrong if Tlilir Village declared itself as Kampung Mbako. Apart from being the best tobacco producer in the world, Tlilir Village culturally continues to maintain its ancestral traditions.
"Tobacco from a resident of Tlilir Village was tested in a laboratory in Germany. And the results of the laboratory test say, if the tobacco from our citizens has the best results in the whole world, he explained.
In addition to tobacco-related annual events, Tlilir Village also has other annual events such as the Sheep Festival which is followed across districts, then there is the Pahing Sunday Market event which has a turnover of 30 million rupiah in half a day.
"These events take place to fill the space after the tobacco harvest. With the hope that the movement of the economy in our village will continue to run steadily from outside the tobacco sector," he concluded.
Srintil Tobacco Festival
The Tlilir Village Head reiterated that the spirit of togetherness and or mutual cooperation is a big capital to move the tourism sector from the event side to bring in tourists. The Srintil Tobacco Festival is one of the strategies.
In addition to confirming it to become Mbako Village in Temanggung Regency, Central Java, he also tries to answer tourists how the tobacco process occurs from upstream to downstream.
Ambar Setyawati, the initiator of Kampung Mbako explained, Temanggung is known as a tobacco-producing area. However, there is no destination that tourists can go to to find out more about tobacco, both historically and in museums.
Tlilir village, added Ambar, has this potential. Both historically and traditionally. So when tourists want to learn and get literacy about tobacco they know where to go.
What should be noted is that the Srintil Tobacco Festival which took place on (12/15) was built and held on the basis of the community's support. And next year, there will be a tobacco auction and will bring tobacco observers from the Netherlands, Australia and Japan.
"There is a very strong and great spirit from the village leadership to the residents to make this Tlilir Village a Tourism Village "Kampung Mbako". This includes financing for this inaugural Srintil Tobacco Festival," said Ambar.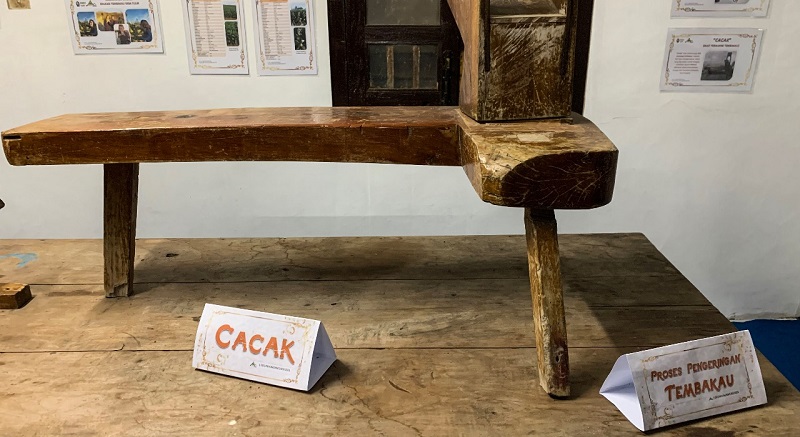 Tobacco Museum
Not only compact in terms of organizing the Srintil Tobacco Festival, village leaders and residents of Tlilir Village are also enthusiastic about having a tobacco museum in their area. This can be seen, how residents collect tobacco-related assets owned by their ancestors.
In this simple self-help museum, you can see several objects, such as a tobacco chopper, chopping knife, the best quality tobacco from decades ago, to the best quality Lamsi Srintil tobacco from the village.
"Residents want this basic food museum to be big from their community self-help funds. Land for the museum already exists. Then the big concept is that there is a diorama about tobacco in it," explained Ambar.
Besides that, added Ambar, outside the museum there is a viewing post so that tourists can see the expanse of tobacco trees from a height, there is education related to tobacco, there is a green house—a tobacco seeding place and others.
The challenge ahead, continued Ambar—who is also a tourism activist from Travelita, is the readiness of residents to entertain and serve tourists. "We from Travelita will provide assistance in arrangements starting from homestays and others," Ambar concluded. [traveltext.id]