THE ARTWORK of a young painter with "down syndrome" (DS), Diego Luister Berel, was recognized internationally by winning first place in a competition themed "Artfusion" at The Holy Art Gallery Exhibition, London as well as several successes in international competitions such as; The Finalist Award for Abstract Category 2022 at Art Show International Gallery, chosen by the International Juried Art Competition, Los Angeles, CA, USA. • World Youth Skills Day, @indonesiainlondon as Indonesian youths who have received international recognition at Globally-Renowned Accomplishments by Indonesian Youths for their achievements in their field of interest from 2021 to 2022. • Asia Art Show on the 26th-29th of August 2022 in Kuala Lumpur, Malaysia.
Diego Luister Berel (22), a painter with down syndrome, is creating at his home in Jakarta, Thursday (5/25), 2023. One of his works, "Balinese Penjor", won an Artfusion-themed art competition at The Holy Art Gallery Exhibition, London, in March 2022.
Strokes and strokes of bright colors of acrylic paint fill the entire surface of the 80 cm x 80 cm canvas which is placed on the table. However, Diego Luister Berel is not finished with his writing. Assisted by his father, Edhie Rianto (63), a young painter with down syndrome, continued his creative work, Thursday (5/25), 2023 afternoon, at his home in the West Cilandak area, South Jakarta.
The 22-year-old youth pointed at a tube of acrylic paint with the color he chose. He asked his father to pour the paint over several parts of the canvas. Diego was ready for action with his two painting knives.
Diego tends to be left-handed. However, his hands were free and agile at the same time sweeping the paint of various colors on the canvas. Those strokes and strokes produce new shapes and colors. "Airplanes… Diego, Garuda Indonesia planes because they have blue and white colors," said Diego in a strained and soft but gentle voice.
The second son of the couple Edhie Rianto and Sandra Berel has been learning to paint since he was 11 years old under the guidance of a teacher at a school for children with special needs in South Jakarta. After changing schools several times, he felt fit to study there.
Painting is one of the subjects taught at that special school besides music and sports. From the results of the teacher's investigation, Diego's interests and talents stood out in painting lessons.
Diego's paintings have strokes and strokes, which trigger the imagination of the audience. Through the shapes and objects in the paintings, people seem to be brought into Diego's world.
According to his mother, Diego is often inspired to paint after seeing pictures, photos, videos and films, especially when surfing the internet. When inspired by something, he will immediately pour it into a painting.
The painting "Balinese Penjor", for example, was made by Diego because he was fascinated by the beauty of Balinese culture from photographs and broadcasts on social media. Meanwhile, the painting "My Cross In The Storm" was made by Diego after he watched the film The Passion of the Christ (2004).
Not only landscapes and natural beauty, Diego is also able to capture tragedy and sadness through one of his paintings entitled "Hiroshima & Nagasaki Atomic Bombings". The painting was made after he watched a film about the United States' atomic bombing attacks on two cities in Japan during World War II.
Meanwhile, the painting "Bomb Blast" was made by Diego a week before the suicide bombing at the Sarinah Building, Jakarta, on January 14 2016. When the COVID-19 pandemic hit, Diego expressed his feelings and understanding about the pandemic through a painting entitled "To Express of Coronavirus" .
Several works also show Diego's religious side, such as "Via Dolorosa", which was inspired by a series of events around Easter. There is also a painting "Stairway to Heaven" which Diego made after seeing two religious holidays, namely Eid al-Fitr and Easter, taking place in the same month, April 2023.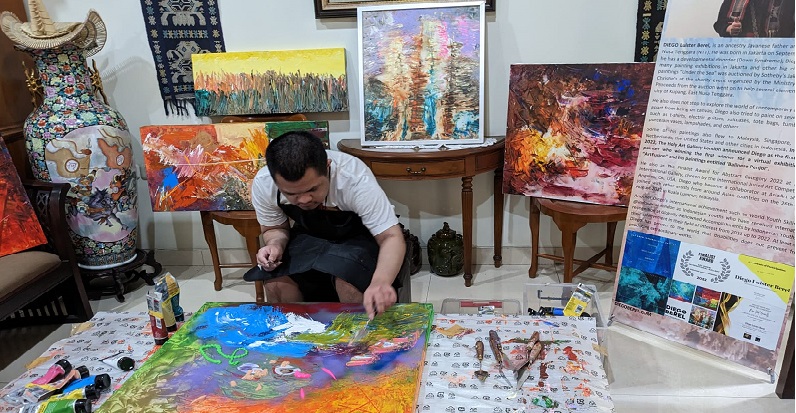 Competition
Last year, the painting "Balinese Penjor" won first prize in an art competition themed "Artfusion" at The Holy Art Gallery Exhibition, London. In that competition, Diego sent five paintings, all of which made it through the initial curation stage to be exhibited virtually.
The jury decided that the painting "Balinese Penjor" won first place, beating the works of hundreds of other contestants from around the world.
"We were very grateful when the five Diego paintings we sent were able to pass (the curation process) and be exhibited virtually. We didn't expect one of his paintings to be declared the first winner," said Sandra.
Diego has participated in many competitions and painting exhibitions at home and abroad, such as Malaysia, the United States and Japan. Some of them are painting exhibitions with Malaysian painters and painters from other countries at the Royal Chulan Hotel, Kuala Lumpur.
The achievement of the second child of two siblings in the painting competition began with winning third place at the SMPLB-SMALB National Student Painting Competition in 2018. His painting is entitled "Lamalera", an area in East Flores which is famous for its traditional whaling ritual. The paintings are among those brought to London to be exhibited for a week, 10-16 June 2022.
Apart from competing and exhibiting, Diego actively collaborates with other artists. Some of them are with musician Ananda Sukarlan and painter Muchlis Fachri alias Muklay. The collaboration was carried out in the context of raising funds for underprivileged children with special needs.
Diego is quite prolific in painting. Not only on canvas, he also immortalizes his imagination and creativity in painting on a number of mediums such as tote bags, t-shirts, pillowcases, flower vases, tumblers, even on the surface of his father's electric guitar.
Diego Luister Berel
Born: Jakarta, 9 September 2000
Education:
Kartini Kindergarten (2004-2005)
SD SLB Budi Waluyo, Bangka, South Jakarta (2005-2011)
Daya Pelita Kasih Center for Individual Special Needs, South Jakarta (2011-2020)
Painting course at Saffrie Effendi at Absolute One Studio (2022-present)
MATALESOGE Center (2022-present)
Exhibition:
Joint Exhibition of Daya Pelita Kasih Center Students, collaboration with Alila Seminyak. Theme; Voices Through Art at Alila Seminyak, August 2017
Exhibition with painters from Malaysia and other countries at the Royal Chulan Hotel, Kuala Lumpur, September 2022
Solo exhibition of Colored Rupa Jiwa, at Artotel Thamrin, Jakarta, 14 September-10 October 2022
Collaborative exhibition with Wisma Cheshire, Hotel Grand Kemang, Jakarta, 2016
Exhibition with international painters at The Holy Art Gallery, London, 10-16 June 2022. See for the further information at www.diegoberel.com [Kompas.id/photo Wisnu Dewabrata]