IN AN effort to pampering its guests, ARTOTEL Suites Mangkuluhur Jakarta continues to present a series of renovations in three places within the hotel such as the Beranda Cafe, Boca lounge and several ARTSY Studio & SUITES hotel rooms, all of which are located on the 14th floor.
According to Djulkarnain, Hotel's General Manager during the intimate 'last dinner' with the press at Beranda Café' on Friday (9/22), 2023 said that I deliberately invited several senior journalists to get experience about the 'before and after' renovation that we carried out in restaurant, lounge and hotel rooms, the point is that we invite journalists to be able to witness every development about our hotel.
"As you know, ARTOTEL Suites Mangkuluhur Jakarta is a 5-star hotel with an art concept inspired by Indonesian culture with the theme "NUSANTARA RE-Imagine," so we want all hotel nuances to be integrated from the moment you enter the lobby, restaurant, lounge and throughout 311-hotel rooms featuring newly renovated ARTSY rooms and the legendary classical rooms throughout the hotel," said Djulkarnain.
He explained that we want this renovation to be done in stages, prioritizing the interior of the hotel and after that next year we will also carry out several renovations to the external hotel. We have budgeted funds for renovations at the 3 places (Boca Lounge, Beranda Café and several hotel rooms amounting to IDR20 billion (US$1.2 million) with a duration renovation for 3 months, before Christmas starts to be finished.
However, when asked why the hotel was renovating? Djurkanain then answered with the hotel's very strategic location in the central business district, entertainment center and culinary center as well as a leading shopping center to become ARTOTEL Suites Mangkuluhur Jakarta which is highly anticipated and is an attraction for guests to stay overnight or who want to vacation or relax at our hotel.
"Perhaps on this occasion too, I would like to refresh before we have carried out renovations for our ARTSPACE, because we are very committed to ensuring that guests of ARTOTEL Suites Mangkuluhur Jakarta experience an unforgettable experience. All of this can encourage innovation and new exploration in the field of art, so that Indonesian fine art can continue to develop and keep up with the times," he remarked.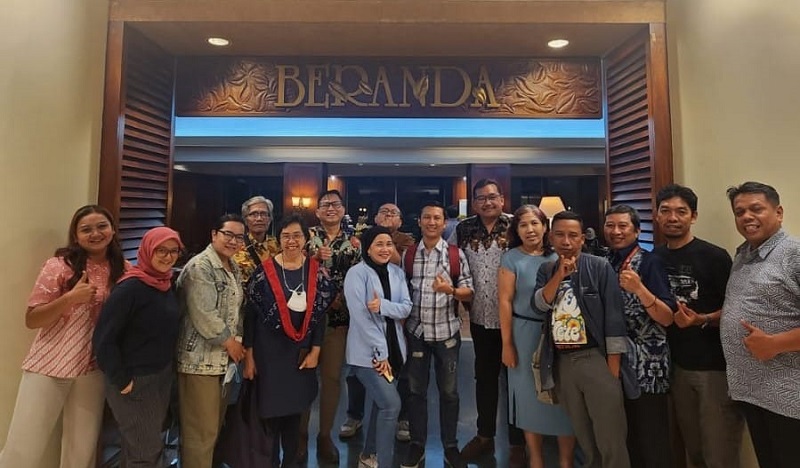 Journalists also asked whether there would be an increase in prices for staying overnight (room rate) or eating at Beranda Restaurant after this renovation, Djulkarnain answered that this could possibly happen because we want a change in the image of the restaurant and lounge as well as our new 'suites' hotel rooms.
Djulkarnain also explained that to strengthen its position as a key player on the luxury hospitality stage in the city of Jakarta and internationally, ARTOTEL Suites Mangkulur Jakarta is redefining its ambition with graceful luxury, a brand commitment to sincere, trustworthy, friendly hospitality, and proud of the domestic brand.
"Well, to encourage the growth of our hotel as an international luxury brand, ARTOTEL Suites Mangkulur Jakarta has invested millions of dollars in renovations, asset improvements, and enhanced guest experiences that reaffirm the spirit of our hotel to achieve excellence," he concluded. [traveltext.id]