IT IS undeniable that the COVID-19 pandemic conditions seem to force anyone to continue to survive in any way. Including players in the tourism and creative economy sector throughout Indonesia, from Sabang to Merauke.
For this reason, the Minister of Tourism and Creative Economy/Head of the Tourism and Creative Economy Agency, Sandiaga Salahuddin Uno, reminded that there needs to be adaptation, innovation, and collaboration as well as the importance of implementing Cleanliness, Health, Safety and Environmental Sustainability (CHSE)-based health protocols to restore the tourism and creative economy sector in Indonesia.
"The key to the recovery of the tourism and the creative economy sector is overcoming the spread of COVID-19. Therefore, let's apply health protocols in a disciplined and strict manner," said Sandiaga Uno, in mid-March 2021.
Through the action #InDOnesiaCARE, players and tourists are expected to continue their activities safely in the adaptation phase of new habits. One of the activities that can be done in the adaptation phase of a new habit is bleisure (business & leisure) or going on a business trip while on vacation.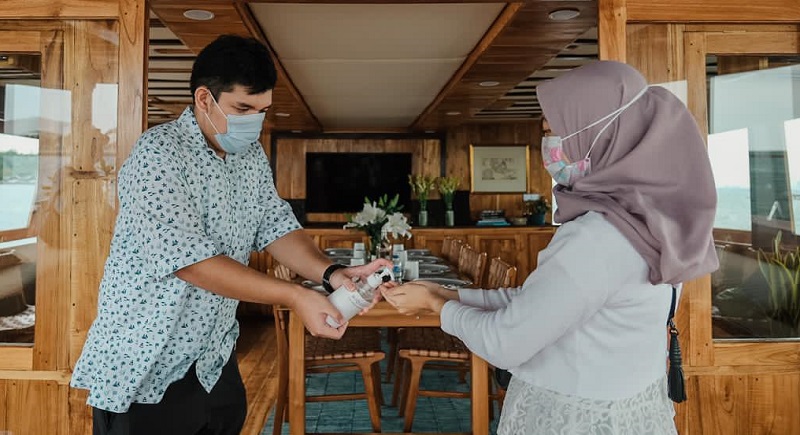 In order to keep the feeling of travel in the selected destination comfortable during bleisure, here are things you should do:
Follow health protocols
Wherever we are, remain disciplined to apply health protocols such as wearing masks, maintaining distance, and washing hands with soap (3M). In addition, if you want to go to the toilet, don't forget to bring a disinfectant or wet tissue that contains alcohol to keep it clean and hygienic.
Avoid crowded places
If you arrive at a place and it turns out to be quite busy, you should wait a moment until the situation is somewhat conducive. However, it is better if you find another place that is more quiet and calm. Besides being safer, a quiet place makes the body and mind more relaxed.
Take care of your body condition
Before bleisure, make sure your body condition is fit and healthy. Enough sleep, eating nutritious foods, and drinking vitamins can be done to keep the body healthy. In addition, don't forget to regularly exercise and sunbathe in the morning, so that the body's immune system remains strong.
Traveling in the midst of a pandemic is not scary at all, as long as we always adhere to and discipline health protocols by implementing 3M everywhere. Remember, our health is number one. [traveltext.id]