YOBOI VILLAGE is a tourist village with complete charm in Jayapura, Papua. Starting from natural beauty, cultural arts, to educational tours.
This variety of potential makes this tourist village in the middle of Lake Sentani you can enjoy feel and see firsthand the variety of attractions that exist in Yoboi Village.
Yoboi Village Tourism Village is a tourist village that prioritizes local wisdom as an attraction. With the right promotion strategy and domestic tourists as the main target at this time, Yoboi Village and other tourist villages in Jayapura will become the main tourist destinations.
Towards Yoboi Village, tourists must cross Lake Sentani. You have to cross from Khalkote Pier. It took about 20 minutes to arrive at Yoboi Village. During the trip, we will be treated to the vastness of Lake Sentani which is surrounded by green hills and clear skies.
Yoboi Village is also known for the presence of sago trees in a 1,600-hectare forest. In this forest there are more than 20 types of sago, and this is the most common type of sago in all of Indonesia. Tourists also have the opportunity to track 420 meters of sago tree tours.
Besides its natural beauty, Yoboi Village is also known for its rich culture. Such as the Sago Caterpillar Festival, the Ela Festival (hunting forest animals), the Lake Sentani Festival, and various dances. On this occasion, Menparekraf Sandiaga was presented with the Isosolo Dance (a dance on the water using a boat).
Not enough, Yoboi Village is also known for its variety of creative economy products. Such as papeda, ice cream from sago, sago flour, grilled sago, and other traditional cakes. Yoboi village also has a variety of Papuan batik, crafts such as bags made of woven sago leaves, necklaces and curtains made of sago fruit, floating nutrition gardens, and others.
Kampung Yoboi has been designated as 1 of the 50 best tourist villages. This village has the best potential, and I am sure that with Kampung Yoboi, Eastern Indonesia will be increasingly recognized by the public.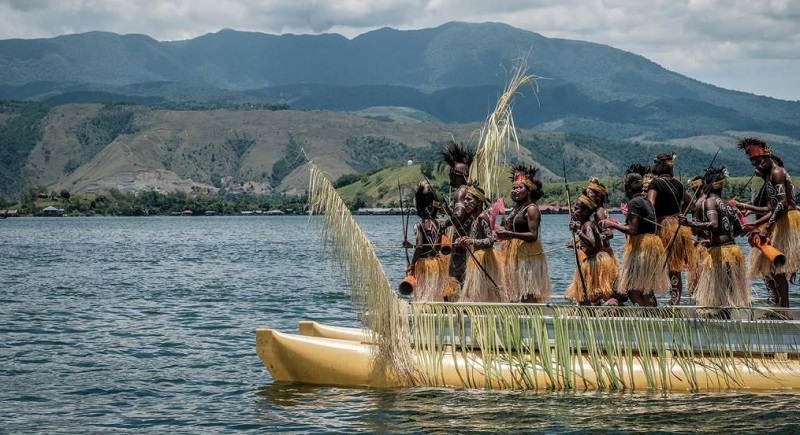 However, for tourism development in Yoboi Village, the number of tourist boats owned by Yoboi Village is no more than six ships. Well, so you have to be patient to wait if you want to reach your destination.
Although it has received attention and support from the Ministry of Tourism in developing tourism in Yoboi Village, and Jayapura in general. Yoboi Village is indeed one of the destinations that will be encouraged for its development in the future.
This tourist village is very interesting, namely Dusun Sago. The village is above the lake, so any activity is carried out on the lake. It is hoped that Yoboi Village can become part of the top 50 best tourist villages. With various existing limitations, the community, especially young people in Yoboi Village, are able to maximize their potential to provide the best. So, are you ready to visit there? [traveltext.id]