THE RUSSO-Ukrainian war is now in its sixtieth day. The world economy is experiencing disruption due to the increasing conflict in these two European countries.
Although the impact has not worsened the coffee commodity, the International Coffee Organization (ICO) report in early April showed a slight decline in coffee exports, which was around 3.2%. There are residual issues that accompany it, namely: extreme weather, the COVID-19 pandemic and global supply chains due to the Russo-Ukrainian war.
From several discussions with national coffee entrepreneurs last week, they have been watching with wary signs towards this decline. However, Indonesian coffee entrepreneurs have several strategies to keep coffee products running, considering that the price of coffee abroad is still high, while the demand for coffee in the country is getting bigger.
"Indonesian coffee is still selling well in Russia with stable prices," said the Indonesian Ambassador in Moscow Jose M. Tavarez on Friday, 22 April. According to Ambassador Tavarez, current exports and imports have experienced disruption in regards to payment transactions and logistics flows due to sanctions.
This indication was confirmed by Renata Bukvic-Letica, Marketing Manager of Tanamera Coffee. Export business players are coming up with effective ways to continue to expand so that the supply chain will continue to run.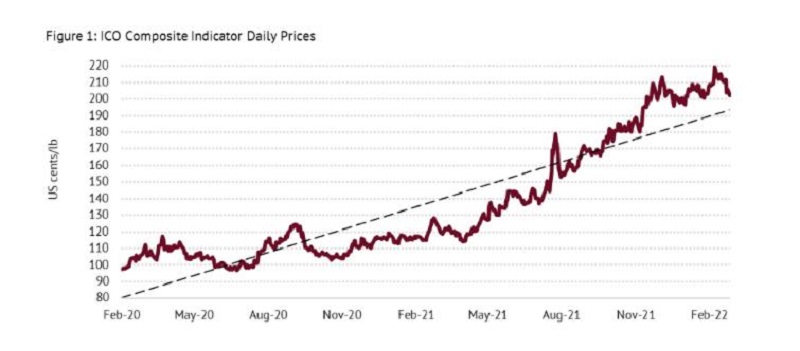 Indonesia's coffee exports to Russia in 2021 experienced an 180% increase, from US$21 million in 2020 to US$36.7 million in 2021. Most exports of Indonesian specialty coffee were from Tanamera Coffee, meanwhile PT Mayora and Torabika were main exporters of commercial coffee.
"The main obstacle is the difficulty of cargo since the pandemic began," added Azis Nurwahyudi, Deputy Head of the Indonesian Representative Office in Moscow. "There is a gap. What can still be relied on is through the Vladivostok port," said Azis.
How do entrepreneurs deal with this situation?
Renata Bucvik Letica from Tanamera Kopi stated that the current global situation has affected prices. Prices go up, but coffee quality does not necessarily go up, indicating a discrepancy in the market.
"We are fortunate that now many international institutions are conducting research on specialty coffee in Indonesia," said Renata. In addition to the variety of single origin coffees in Indonesia, millennials can also distinguish high quality from ordinary.
"There are two trends that we see. First, people are aware that imported coffee is currently expensive. Second, several large companies are increasingly focusing on specialty coffee research," said Renata. So, while exports to countries in conflict are still waiting for supply to recover, coffee entrepreneurs need to look for opportunities in other countries. In the near future, Tanamera will open its 5th outlet in Singapore.
Domestic demand is increasing
Paul Wouters, a coffee entrepreneur and founder of Bulearabika, said that currently the domestic demand for coffee is increasing rapidly. The Belgian native noted that it is an opportunity to develop Arabica and Robusta coffee.
"Coffee from Java, Sumatra, Bali, Aceh, all of them are different, and that is the uniqueness of Indonesia", said Wouters. Bulearabika, which is based in Jakarta, produces around 80 types of original Indonesian coffee blends including Dampit coffee from the Blitar area which not many people know of.
Taking part in international coffee exhibition
Another entrepreneur, Ivan Hartanto, along with other national coffee companies, participated in Specialty Coffee Expo, the largest specialty coffee exhibition in Boston, United States from 6-10 April.
"This is a good opportunity for us to introduce our premium coffee, which has been known for a long time," said Ivan, who has been exporting coffee to the west coast of the US and UK.
During the Expo, Indonesian (RI's) coffee products that received the highest demand were from West Java, Gayo, Mandailing, Luwak, Toraja, and Bali. This statement was confirmed by the Head of Bureau for Karo of Law and Cooperation of the Ministry of Cooperatives and SMEs, Henra Saragih.
"We facilitate Indonesian SMEs engaged in the coffee business to expand market access to the US. This also proves that Indonesian specialty coffee products are able to compete and attract consumers, especially the United States market," said Saragih through an official statement received in Jakarta, 13 April.
He further noted that as a follow-up, three buyers were said to be visiting the Java Halu Coffee plantation in West Java in May to carry out surveys and trade contracts.
At the SCE 2022 event, Caldera Coffee found a potential buyer from Argentina with a potential transaction value of IDR157 billion for Toraja, Bali, Mandailing, Java and Luwak coffee products.
Then, Java Halu Coffee from West Java received requests for green beans from three potential buyers, namely the US, Mexico, and Ecuador.
From the above developments, it can be concluded that despite the on-going war in Europe, coffee entrepreneurs have several strategies to keep the business running. First is to actively look for niche markets in other areas. Second, increase domestic production due to high demand, and last but not least, the third, participate in business events worldwide.
Indonesian embassies play a large role on coffee exports. According to the Indonesian embassy in Moscow, the market share of Indonesian premium coffee has been very promising in Russia. "Coffee consumption in Russia reaches 1.7 kg/person every year or if it is calculated, the need for coffee in Russia reaches 241,608 tons/year," said Deputy Ambassador of the Republic of Indonesia, Azis Nurwahyudi.
Coffee itself is one of Indonesia's leading export products in Russia which ranks third after palm oil and copra in 2013-2019. A dynamic movement!
[Author: Bagas Hapsoro, Indonesian Ambassador to Sweden and Latvia (2016-2020). The view's expressed is the author's personal]