THROUGH the Sambanggo Movement, the Kulon Progo Regency Government, Special Region of Yogyakarta invites tourists to visit various interesting tourist destinations in its region.
The Sambanggo movement has become a Kulon Progo tourism strategy during the COVID-19 pandemic," said Head of the Kulon Progo Tourism Office, Joko Mursito when met recently.
"We are supported by Sambanggo. So, during the pandemic, everyone is sick. So, we can't invite them for recreation or sightseeing, but visit or visit. That's how it is," he said.
Furthermore, Joko explained that 'Sambanggo' is an acronym for 'Sambang Kulon Progo' or it could be 'Sambang' and 'Monggo' which means 'visit please'. Sambang in Javanese can also mean 'look' or 'have'. In Indonesian, 'tilik' is the same as visiting or looking.
"It's like visiting sick people. You don't need to be busy and linger. So that each place you visit is also short enough," explained Joko.
According to Joko, 'Sambanggo' is not just a greeting or a mere term shown when tourists visit Kulon Progo. However, the Kulon Progo Regency Government made the word a name for a new movement in the Kulon Progo tourism sector during the COVID-19 pandemic.
Travel destinations
With the slogan Sambanggo, the Kulon Progo Regency Government invites tourists to visit a number of tourist destinations, such as Purwosari Tourism Village, Gumilir Tea House, Gelagah Beach, Kiskendo Cave, to enjoy the beautiful dance performances of Subali and Sugriwa.
Not only that, Joko also said that the area he leads has good ancient geotourism potential. This is marked by the presence of ancient stones up to 3 ancient volcanoes in the Kulon Progo area.
"In 2021, we received a decree from the Minister of Human Resources which stated that Kulon Progo has 3 ancient volcanoes and ancient stone remains, which we then move quickly to capture it in the study of geological and historical friends," Joko Mursito remarked.
Apart from traveling, archaeologists have also been involved in developing ancient finds in Kulon Progo. Therefore, Joko hopes that with these studies, the potential of Kulon Progo to become the world's ancient geotourism can also be achieved.
"Our dream is that Kulon Progo can become the world's ancient geotourism. We are already heading in that direction. We must synergize with various parties, collaborate, and it is hoped that ancient world geotourism can make Kulon Progo pursue other areas in Indonesia that are already successful in the tourism sector," he added.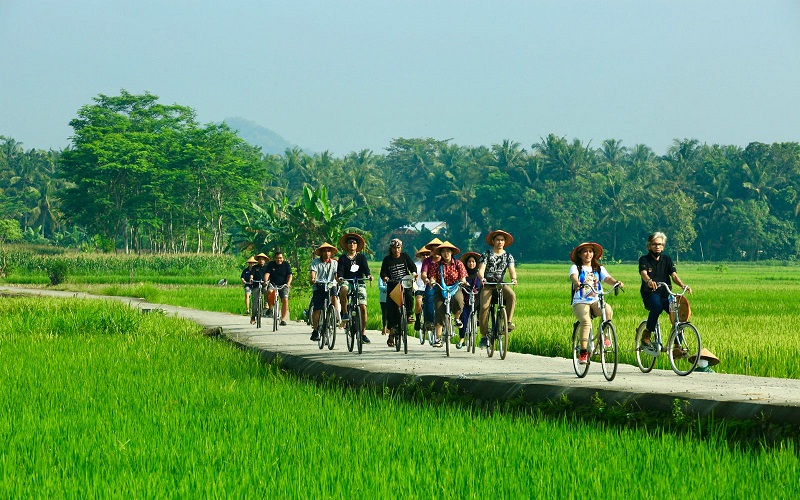 In Kulon Progo district, there are a number of tourist attractions that can spoil the eyes of visitors because of their cultural and natural beauty.
He explained that Kulon Progo benefits from its culture and nature. So, the culture is very strong and the nature is very supportive. That is our capital for later development, Kulon Progo Regional Tourism Office wanted to package tourism in Kulon Progo like "spaghetti packed in banana leaves.
"We want it to be like gudeg packaged in cans or spaghetti packed with banana leaves. The meaning is that we want our local wisdom to really be brought up with international packaging, or international content but traditional packaging. That's an analogy to make us and our friends young in the tourism sector," he concluded.
Here are three natural and cultural tourist destinations that people in the Kulon Progo area can visit.
Gumilir Tea Plantation
Purwosari tourist village is a place that you can visit when traveling in Kulon Progo. There, you can see the Gumilir Tea plantations. This premium local tea from local farmers has a unique and distinctive taste.
Because, they pick the top 3 tea leaves (shoots) to maintain their quality. After picking, the leaves must be directly roasted using a special tool.
This process can take up to 8 hours. Not only can you see the plantations, tourists can also see the process of making tea and taste the tea directly.
Mudal River
Apart from visiting the tea gardens, you can also visit the Mudal River. Besides enjoying the beautiful waterfall view, visitors can also swim. This Mudal River ecotourism is located in Jatimulyo, Kepanewon or Girimulyo Village, Kulon Progo Regency.
This Mudal River can be visited from 09.00 am to 16.00 WIB. Visitors are also only charged Rp. 10,000 when visiting this place. Not only swimming and enjoying the scenery, here you can also camp and stay at homestays.
Enjoying the 'Sugriwa Subali' Performance at Goa Kiskendo
In this place, tourists can enjoy a piece of the story about Sugriwa and Subali. The dances, songs and stories will entertain the tourists who are there. This story that accompanies the cave so that residents have a great attraction for this tourist attraction.
Apart from enjoying the ballet about Sugriwa and Subali only. Visitors can also go down the cave, play in the playground, to enjoy the beauty of the flower garden. The beauty of this place is also very suitable for photo objects. [sources/traveltext.id]