THE CLOSEST island to Singapore and Malaysia, Batam is a significant player in attracting foreign investment to set up business in Indonesia. With those key advantages, ARTOTEL Group proudly collaborates with PT HotelOzon International to launch ARTOTEL Batam, which officially opens its doors on August 2022.
According to Eduard Rudolf Pangkerego, Chief Operating Officer for ARTOTEL Group said combining the concept of art and lifestyle, ARTOTEL Batam is an art-inspired boutique hotel that targetscboth young holiday and business travelers. A hotel with great art, ARTOTEL Batam displays various artworks in every corner of the hotel facilities: public spaces such as the lobby area, and in every guest room.
"ARTOTEL Batam is strategically located in the Penuin Centre shopping area on Batu Selicin street, which is known as the business and trade area in Batam City. It is just a 30-minute drive from Hang Nadim International Airport and a 10-minute away by car from Harbour Bay & Batam Centre Port," he said.
Eduard explained that the pandemic is not fully over yet but we all know that it is more controlled now. It is great to see the borders are opening up and people start traveling again. As we recover stronger, ARTOTEL Group celebrates another milestone with the opening of ARTOTEL Batam.
"As an industrial city and the closest island to Singapore and Malaysia, Batam needs more hotels for tourists and business travelers. And as part of ARTOTEL Group, we want to offer a unique boutique hotel concept and a different stay experience through the touch of art and lifestyle, In addition, we can encourage local artists to grow by actively promoting them through our art and creative activities at our facilities: ARTSPACE, EATSPACE, and BARSPACE," he remarked.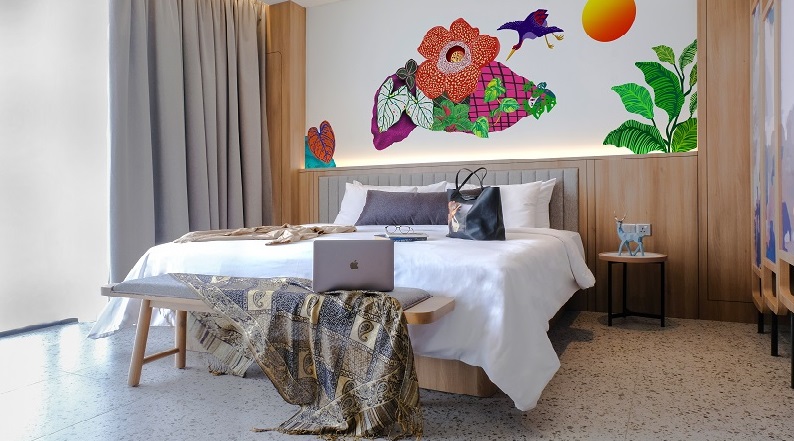 ARTOTEL Batam features 138 artsy guest rooms in two different types: Studio 30 and Studio 45. The hotel has two F&B outlets, such as EATSPACE and BARSPACE which will become the new hangout destination in Batam and serves various modern food and beverages, as well as live entertainment. In addition, ARTOTEL Batam also offers three meeting rooms MEETSPACE which can accommodate up to 120 people, as well as ARTSPACE as an art gallery –a dedicated space available in every hotel with the ARTOTEL Brand.
Meanwhile Hakim, Director of PT Ozon Hotel International said as the tourism sector slowly recovers and the borders open up, we are delighted to announce the opening of ARTOTEL Batam today. It is a great collaboration between our company and ARTOTEL Group –an experienced hotel operator in Indonesia.
"The first artsy hotel in Batam ARTOTEL Batam is a fantastic showcase of the art-infused hotel that represents a diverse array of Indonesian culture. With our spacious rooms and facilities, we look forward to delivering an exceptional stay experience to both holiday and business travelers," Hakim noted.
During this opening period, ARTOTEL Batam offers a special rate of IDR598,000 per room for Studio, which includes breakfast and dinner for two people. This offer is valid throughout August and for direct booking over the phone and website. For reservation, please call +62 778 488888 or +62 811 7218 881 (WhatsApp) or visit www.artotelgroup.com. [traveltext.id]