THE EXHIBITION which aims to change and influence the art world in Asia, especially in Malaysia, especially towards the general view and appreciation of the fine arts industry in Asia is much lower than in other parts of the world.
According to Hazrita Mohd Hatta, Founder of Asia Art Show said so, with the Asia Art Show aims to become an annual event that connects Asian countries with one goal to highlight talented artists around the world. The event will feature painters from Malaysia, Indonesia, India, Korea, Germany and more.
"One of them come up from Indonesia, represented by Diego Luister Berel, an artist with Down Syndrome from Indonesia is one of the featured artists for Asia Art Show. This initiative relates to the fact that we seldom hear about visual arts events in Malaysia to be combined with CSR activities and held in such a big scale with the potential to exceed all expectations," she said.
Hazrita Mohd Hatta explained that Asia Art Show will also be showcasing international artists hailing from different countries such as Upasana of India, Dr Klemp of Germany, Rojali of Indonesia, Park Ye Sol of South Korea and many more. Other than that, a lot of prominent names from Malaysia will also be taking part in this prestigious event. They are Ridzuan Mat, Siva Nair, Elise Wong, Maba Jaafar, Amy Hashim, Ismail Itam and many more who are making their names in the local visual art industry.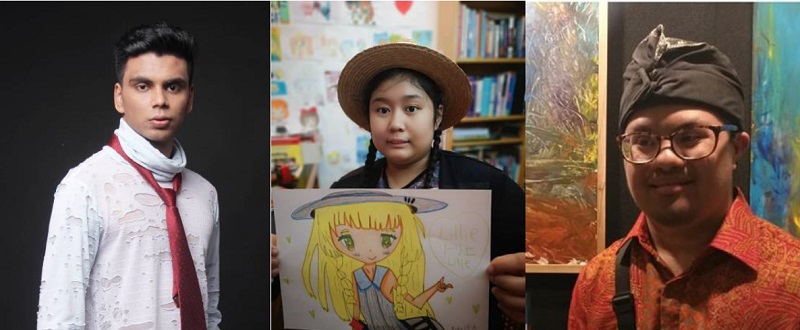 "Asia Art Show is a 3-day event, she continued that compiles artworks from various international artists with a variety of genres involving a number of artists with special abilities (OKU). Around 20 OKU artists from PLPP Bangi and other individuals will be presenting their best skills and artworks exclusively at the showcase. Daneia, Ameer, Danny, Wani, Phua and Aveen are some of the pool of amazing artists who will be joining the event," she remarked.
Moreover, Asia Art Show aims to promote and encourage more exposure and engagements for all the artists to grow and pierce the global industry more openly. This event also wants to make Malaysia an art hub that is just as popular as our neighboring countries like Singapore, Hong Kong or Indonesia and through this movement that dream is much more attainable.
"In order to ensure the success of breaking ceilings to stand on the global art stage, we need all the support from various parties especially from the Malaysian government sectors. We guarantee that any contribution will be vital to bringing our local art industry to much higher height," she concluded
Thus, we encourage everyone to come and enjoy this prestigious event; Asia Art Show that will be open to the public on the 29th of August 2022 at Level 1, Grand Salon Grand Hyatt, Kuala Lumpur and experience the impact of over 1000 featured artworks. [traveltext.id]