THE ASIA Art Show 2022 featuring 100 artists and 1000 artworks from both local, special needs and international participants joined at the Royale Chulan Hotel, Kuala Lumpur, Malaysia on Saturday (9/17) which was officially opened by YB Teresa Kok, Member of Parliament Seputeh and this art exhibition is open to the public from 17-20 September 2022.
According to Hazrita Mohd Hatta, Founder of Asia Art Show at the opening ceremony said that through art exhibitions, especially with individuals with special needs or people with disabilities. In this case, the Asia Art Show is consistent in always supporting individuals with special needs, one of which is through this art exhibition that we organize.
"We hope that Malaysia's art lovers can enjoy the artworks of 100 artists from local, foreigners' and specially for individual with special needs and use it as an inspiration that disability is not an excuse not to improve their abilities," she said.
Hazrita explained, besides that with the Asia Art Show 2022 aims to become an annual event that connects Asian countries with one goal to highlight talented artists around the world. The event featuring painters from Malaysia, Indonesia, India, Korea, Germany.
"Moreover, the Asia Art Show aims to promote and encourage more exposure and engagements for all the artists to grow and pierce the global industry more openly. This event also wants to make Malaysia an art hub that is just as popular as our neighboring countries like Singapore, Hong Kong or Indonesia and through this movement that dream is much more attainable," Hazrita remarked.
"One of them come up from Indonesia, represented by Diego Luister Berel, an artist with Down Syndrome from Indonesia is one of the featured artists for Asia Art Show. His skills, especially in the field of painting. What's more, at the same time on September 14 until 30, he also held his solo exhibition in Jakarta," she noted.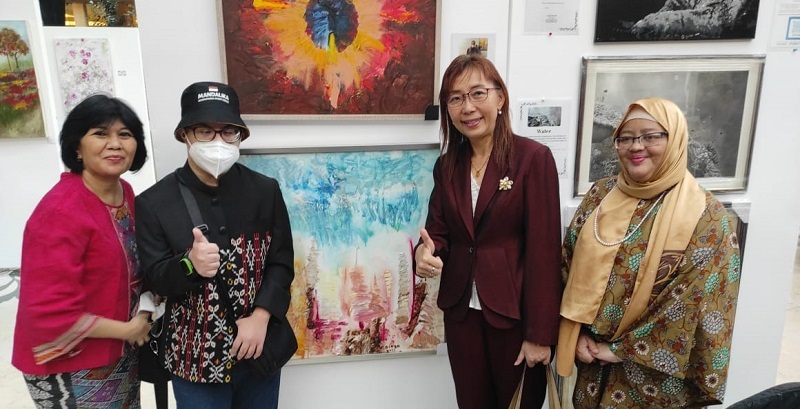 Another experience that Diego has participated in is participating in a prestigious international competition through his painting at the Holy Art Gallery London as the first winner for the 'Art Fusion' category for his painting with the theme 'Balinese Penjor' and he was also a finalist at the International Juried event. Art Competition for Abstract Category 2022 in Los Angeles USA. His paintings have also traveled the world to several other countries such as: Malaysia, Singapore, England, the Netherlands, Germany to the United States.
Asia Art Show is a 3-day event, Hazrita continued that compiles artwork from various international artists with a variety of genres involving a number of artists with special abilities. Around 20 individuals with special needs artists and other participants will be presenting their best skills and artworks exclusively at the showcase. [traveltext.id]