WHO WOULD have thought that Jember is one of the regencies in East Java that is synonymous with tobacco. Even this tobacco plant has become a 'trade mark', so that Jember has the characteristics and variety of processed tobacco products.
So, of the several processed tobacco products in Jember Regency, the most famous are cigars or cigars. In fact, even more powerful, just so you know this cigar from Jember has gone global, you know. From the tobacco city, Jember is also known as one of the best cigar producers in the world.
This story was inspired when I visited a tobacco museum in the city of Jember. So impressed to see a museum with the concept of a tobacco house and library, so we can know the brief history of Jember tobacco. The next search is to visit one of the cigar or cigar manufacturers produced by PT. Boss Image Nusantara (BIN) Cigar. It is not half-hearted that this factory has become a target for 25 Jakarta journalists who are members of the Association of Jakarta's Media (HAM) in celebrating its 15th anniversary recently deliberately visiting the factory which is located at Jalan Brawijaya No. 5, Jubung, Jember, is a producer of cigars in East Java from tobacco raw materials that are self-produced with varieties originating from Cuba.
The tobacco that is processed here is by the fermentation method and adopts the production method of Cuban cigars so that it has the same taste, how come?
From the results of discussions with the owner of the factory, and also the commissioner, Ir. H. Febrian A. Kahar, Miam said that indeed we have to admit that cigars are synonymous with Cuba, but in Indonesia there are rarely cigars. So, from there, we made cigars whose manufacturing methods and varieties of tobacco plants were exactly the same as in Cuba. In fact, we deliberately came and stayed for months to do research and get this variety of Havana, Cuban tobacco grown in Jember so that it has its own characteristics.
But when asked how long it took from the process to become a cigar, Febrian immediately explained, the process went through stages like a baby, so from planting, picking, to processing, processing and then blending, the whole process was done by hand so it really produces a product. premium quality.
The journey is quite long, he continued, from growing tobacco to becoming cigars it takes about 2 to 3 years, that's why it's expensive. Let's see, for the cultivation of the tobacco itself it takes 4 months to process, 20 days for drying and then 4 months for entering the factory, not to mention the fermentation required through natural processes and cannot be engineered. Well, it's only been a few years since it became a cigar, after that it takes time to maintain it so that it gets a premium cigar taste.
"Imagine the hassle of the process being carried out in the factory, continued Febrian, starting from drying using wood and briquettes as well as rice husks, rice husk and wood but the principle is natural, we only rotate the air humidity, especially at night the temperature drops. Technological engineering is needed so that it is not affected by fuel oil (BBM).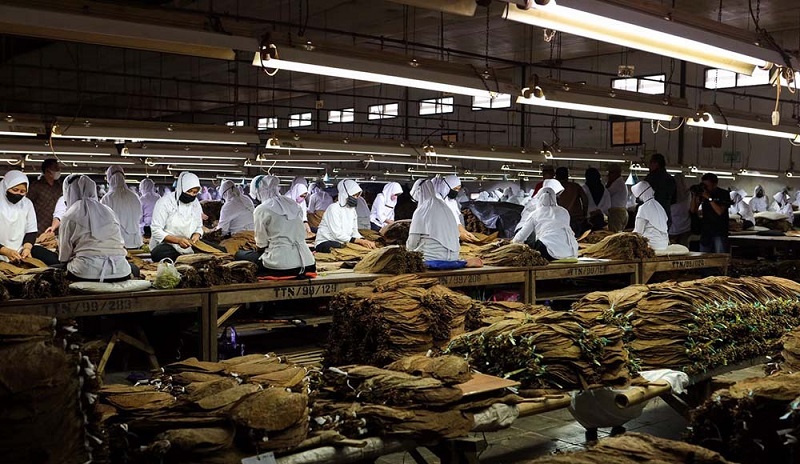 Not to mention that the cigar factory requires thousands of female workers to handle the process of making cigars, even for one sheet of tobacco from harvesting to the finishing (packing) process it requires 600 women's touch. You can believe it or not, but in reality the female workforce is more consistent, the level of accuracy is higher than that of the male. "Well, this is the reason we employ more women here," he explained.
Thousands of female workers, taking care of the needs by the target only. On average they already know their respective jobs. The condition of silence in folding tobacco is needed and you already understand how it works. Usually under normal conditions our factory can accommodate up to 3000 workers.
Apparently, that the cigars produced by BIN have penetrated the international market. The Asian region (China, Japan, Malaysia), Europe (Turkey, Poland, Moldova, Cyprus), to the United States, are regular consumers of BIN Cigar Jember. "It's because cigars themselves are not well known in Indonesia, we are exploring the international market. For local consumers, only segmentation or certain people and communities are in Semarang, Surabaya, Jakarta and Bali," he explained.
For that, he continued, PT. BIN Cigar Jember now has three mainstay cigar products, namely Half Corona (cigars made from the lower leaves of tobacco), Corona (cigars made from the leaves of the tobacco feet), and Robusto (cigars made from the top leaves of the tobacco). The character of the taste and aroma of Robusta cigars has the typical aroma of Cuban tobacco with a stronger and more specific taste.
"For Corona cigars, it has a slightly lighter taste impression than Robusto. Meanwhile, Half Corona is lighter than Corona. All cigar products that we produce are not harsh in character and have perfect combustion. Apart from these three cigars, BIN Cigar also produces El Nino and Maumere cigars which taste and smell typical of Cuban tobacco with a light, soft and neutral taste," Febrian remarked.
Just so you know, PT. BIN Cigar makes these cigars from its own tobacco plants, he admits this is indeed from the development of people's tobacco, but because it requires strict quality control to be exported abroad, we are forced to grow our own tobacco and we have to do a lot here, so that quality can be even more innovative so that now cigar products, from the selection of raw materials to the handmade production process, are key products for BIN Cigar, becoming number two in Indonesia, which supplies the cigar market with annual production reaching 100 to 200 tons under PT. Djarum Tbk.
Since we were founded about 8 years ago, now we produce around 24 brands using the ATM concept or better known as Admitted, Imitated, Modified. With this concept we managed to match the taste of cigars produced in Cuba. "The point is, we imitate it here, whatever the taste of Cuban cigar products, we imitate it. It can even be customized. But don't worry, copying it is legal, because copying the taste is permissible, not their shape and gold, because we are allowed and it is written in the agreement with Cuban products that we are only allowed to imitate the taste," he explained.
Febrian's sense of optimism is indeed strong, in this business he has no rivals, what is there is often synergy. For example when dealing with residue, he exchanged ideas. "I don't see any competition here, but we still have a lot of homework (PR) to fix, starting from the target market share, the right exports for the buyers we are looking for, to the digitalization program for marketing or growing it on the marketplace," he added.
Indonesian cigar products are really 'growing' but must be supported by several factors, namely the government through the Ministry of Foreign Affairs and the Ministry of Trade, especially when the basic price of tobacco is low. "Learning from experience when hit by a hurricane, almost 70% of cigars disappeared from the world market, so many bought Chinese cigars, at that time tobacco from Indonesia entered the world market, even almost 50% of world cigar fans came from Indonesian tobacco," said Febrian.
It was also explained that for domestic consumption, it turns out that cigar enthusiasts are steadily increasing, so that now many other cigar factories have sprung up. For example, PTPN Medan's products have been released, there are also ones in Aceh, creating new jobs, and lots of sellers hanging around too.
"In fact, growth in the marketplace has increased, especially since President Joko Widodo has shown his seriousness in loosening several policies for export and import of cigars, especially for customs in increasing local cigar products, because cigar excise is different from ordinary cigarettes," he said.
In addition to wanting Indonesia to be known for having premium cigar products that can be proud of at the international level. "We have to introduce to representatives of other countries in the world that we have a cigar that can represent cigar diplomacy or a cigar lifestyle, which has so far been synonymous with Latin America and Europe, and can gain partnerships and relationships with consumers and business partners to develop business in the future," concluded Febrian. [traveltext.id/photo HAM]